What No One Tells You About Time Management
"Until we can manage time, we can manage nothing else."
The famous quote by Sir Peter F. Drucker reflects how much important is to manage time.
A study shows if a person lives for 65 years then time spent by him in the following activities are:-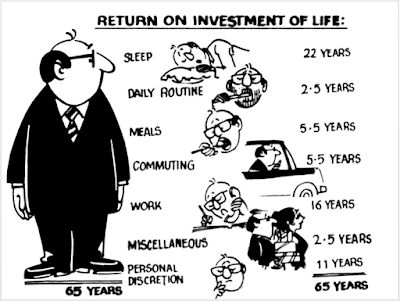 As per this data, it becomes extremely important to excel the art of harnessing this 11 years of personal time as much as possible. Most other activities on the list except 7th one are the "have to do activities" of our life and if we want to do what we like then we are only left with these 11 years.

What we like activities can be spending time with family, friends, relatives, exercise, hobbies, some entertainment etc.

This blog will help you to expertly manage the time in your life.


1.Time Management Matrix
Learn to classify all the activities you do throughout the day in these four categories.
Quadrant 1->
Quadrant of Action- Activities which are urgent & important.
Quadrant 2- >
Quadrant of Quality- Activities which are not urgent but important.
Quadrant 3- >
Quadrant of Deception- Activities which are urgent but not important.
Quadrant 4- >
Quadrant of Waste- Activities which are neither urgent nor important.
The two major factors that define an activity are urgent and important:-
1. Urgent- Requires immediate attention. Now activity. e.g ringing phone.
2.Important- If something is important then it will add value to your goals of life.
The tendency of human is to react to urgent matters and to procrastinate the important activity that is not urgent. To avoid this start any activity by finishing it in your mind, this will give a clear idea of what is important of the result we aspire in our lives. Doing so we can save ourselves to respond to urgent but not so important activity.
More you have clarity about the activities you do in your life that they fall in which category they fall you will be an expert time manager.
Successful people are never activity intended but to results. They have a clear goal in life and crystal clarity about what is urgent & important in their life.
Quadrant 1- Quadrant of Action
Activities which requires immediate action. Following are some list.
1. Studying for tomorrow's exam.
2. Completing the assignments, presentation, homework etc before the deadline.
3. Tire puncture, baby crying, meeting a doctor when sick....etc
The list goes on like this .....I also call it as firefighting zone of life. Here you have to use all your skills to tackle these challenges which makes us really fatigued.
If you are spending most of your time in this quadrant means you are pathetic in managing time.
At the same time, you are very poor at managing the second quadrant of Quality. You are an expert procrastinator. If you continue to do so you will end up with poor health, broken relationship, fatigued and very high-level stress.
Quadrant 2- Quadrant of Quality
This is heart personal management. The activities which are not urgent but important. Ignoring this quadrant feeds a lot to the first quadrant. For example, I have an exam or presentation after three months which is important as of now but not urgent. So if don't invest time in it at this stage then it will go into Quadrant 1 and will come as crises one day upon me.
This also includes the aspect of self-development learning time management, communication skill, driving, swimming, exercise, yoga, hobbies etc.
Many of us fail to invest in our personal growth. Unless you add value/skill in yourselves, you won't be able to do any good to society. Especially in today's fast-paced world, we neglect our health a lot.
More you invest in this quadrant of quality you will face fewer crises in your life and will be more peaceful.
Quadrant 3-Quadrant of Deception
This includes the activities which are not important but urgent and the worst part is we consider it important. That's why it is named Quadrant of Deception. The intensity of urgency creates a mirage of importance. Never fall for it. Some examples can:-
1.Friend asking to accompany him for some movies, outing, shopping etc.
2. Replying to unnecessary email, messages, phone calls etc.
You can escape this quadrant by saying a sweet no.

Quadrant 4 -Quadrant of Waste
These are totally waste of time neither urgent nor important. These include activities which promise a lot of pleasures but in the end, you get very less at the end. Like eating cotton candy.
1. Watching mindless movies, tv shows.
2. Surfing on you-tube for videos.
3. Reading addictives novels.
4. Social networking Facebook, WhatsApp etc.
5. Video games.
Irresponsible Species - Spend too much time in quadrant 3 & 4.
Effective people spend a good amount time in quadrant 2 and shrink the quadrant 1.
Summary:-
Whether you are a student, corporate employee, businessman, sportsmen, housemaker or even a prime minister ask yourself what lies in quadrant two in your life and proactively go after it. You will see a huge rise in efficiency & fewer crises.
Let me summarise the whole blog by one quote of
Stephen Covey
:-
What does it matter how much we do if what we're doing isn't what matters most?
Also Watch.